Tuesday, 28 July 2009
A Holy Warning

So the note Azure and I had an effect. We spent a long time in the Inn of Good Hope getting the wording correct, we used a fine piece of parchment I had been saving for a map with Azures blue ink and neat writing.

It was sealed with an impression of the ring of levity and wrapped with a blue ribbon. It was this ribbon that I first saw as the crowd gathered around Elijah and T'yranda in the centre of Dundee. The crier had announced his departure from Branishor but I couldn't believe it was only because of our note and it wasn't.

The High Cleric briefly spoke to me about the note although I had an uncomfortable impression that he wasn't pleased of my new choice of profession. T'yranda made a brief report about the Sea Dwellers which gave support to certainly my thoughts that the new outpost suggests they are much more dangerous and organized than most suspect.

The second topic and surely the matter that had bought Elijah from the temple was one of his visions. The gods had shown him a dire vision of suffering for the citizens of Valorn that somehow related to the horrific Dead Zone. The warning was taken in different ways by different people but despite it's vagueness with this warning we can make sure our watch on Balthazars fortress is increased. We should be careful not to take Elijahs warning lightly.

Sunday, 26 July 2009
Sea Dweller Shelter

Pallas made it into a fine tale, the ground shuddered and Sea Dwellers poured fourth driving zombies before them. I went to see the strange new door for myself always eager for the opportunity to do some mapping. Sure enough there it was, a strange doorway and covered in so many footprints it was sure to be the place that was causing such excitement.

Warily at first I descended into the hole to be confronted by zombies, but they would not attack me, heading deeper into the caves and tunnels with my notebook I came across Azure, Scally and Kaballoi. For a while we spoke but the mapping called me to explore deeper. The caves are a strange place and disturbingly dangerous. I know others disagree to what happened but I know what I saw. Whatever inhabits the alter still has power and its not a human power.

I'm sitting now in the Dundee Inn making the final touches to the map and correcting the error Kaballoi pointed out. It's nice to see more taking up and finding the fun in mapping Valorn.

Wednesday, 22 July 2009
A Mutant Beast-Thing
Lately I have started exploring again. Following the familiar paths of Valorn in my soft shoes, I find climbing much easier now. The ledges of the granite crags hold no fear but I have to carefully pick my way between the squelchy puddles in the swamp.
I have always carried a sketch pad to keep track of the routes for the maps and to note any changes I spot but since Azures Field Guide I have taken a larger interest in the creatures of Valorn than I used to. I have already drawn a Bos, Dryad, Sea Titan and Armadillo and while passing through the Black Wastelands I came across a particularly unusual Mutant Beast-Thing. Like most creatures it completely ignored me so I was able to pause and sketch it in enough detail for another plate.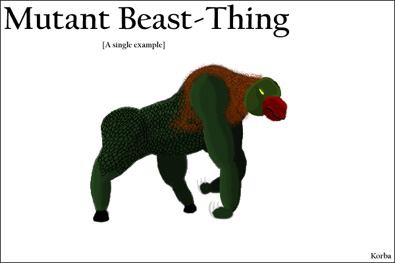 Wednesday, 08 July 2009
Desert Thoughts

Trapped in a land locked sea,
the wind howls its desperate plea.
Why do waves of wind blown sand,
now flood and cover this land?

Thoughts that go round in swirls,
mirrored by grains that whirls.
Which is the reflection of the other,
stormy eyes or an approaching souther?

If one day the rains return,
as the buried earth bed yearns,
or if my troubled mind find peace,
would the raging sand too cease?

Monday, 06 July 2009
Pilgrimage or Hiding

I have gone on pilgrimages before, I have even gone into seclusion before and never been quite sure why but of one thing I'm sure, when Valorn begins to clamor its the peace of the wilderness that comforts me most.

As usual my preparations would leave the meticulous horrified but I have always had a bulging pack that let me get by more often than not and I know I can count on friends to bring me supplies if it comes to that. An old set of robes could be scavenged to keep the sun and sand out of my eyes and off I went. I was surprised to follow the path on the first attempt but the years exploring the lands mean my feet know the path better than my head.

While is sit here with my back to the wind blown sand a memory of the Way of the Just comes to mind:

"If someone feels wronged by your actions then you have wronged them"

So I try to think of a way to make amends to someone who's council I once believed in without taking those extra few steps he would like me to.
Korba posted @ 15:33 -
Link
-
comments (1)

Friday, 03 July 2009
Birthday Celebrations

This week has seen the Remnants of Kimalds sixth birthday celebrations, reading back it had been exactly eight months since I had left there ranks and a time of quietness and change. While they where hosting a number of contests in celebration, the event I was most looking forward to was the annual play. Since I had participated three times before it was going to be fun to watch from the audience.

The actors hovered nervously near the stage in their costumes at the allotted time but the audience… I can remember the large seating area groaning under the weight of people eager to see the play, High King Deek, Darren on Admin, Xia, Carol and her green guardians but today there was Thorin, myself and Azure. Was it the timing or are the people of Valorn so absorbed in there fighting they no longer welcomed the opportunity to do something different. Whatever the reason my heart sunk for all the hard work they had put in. Six years of tradition and the play had to be postponed.
039044 visitors