Deprecated: preg_replace(): The /e modifier is deprecated, use preg_replace_callback instead in /storage/content/10/1006410/dgplayers.net/public_html/mkportal/include/functions.php on line 1473 Deprecated: preg_replace(): The /e modifier is deprecated, use preg_replace_callback instead in /storage/content/10/1006410/dgplayers.net/public_html/mkportal/include/functions.php on line 1474 Deprecated: preg_replace(): The /e modifier is deprecated, use preg_replace_callback instead in /storage/content/10/1006410/dgplayers.net/public_html/mkportal/include/functions.php on line 1475 Deprecated: preg_replace(): The /e modifier is deprecated, use preg_replace_callback instead in /storage/content/10/1006410/dgplayers.net/public_html/mkportal/include/functions.php on line 1473 Deprecated: preg_replace(): The /e modifier is deprecated, use preg_replace_callback instead in /storage/content/10/1006410/dgplayers.net/public_html/mkportal/include/functions.php on line 1474 Deprecated: preg_replace(): The /e modifier is deprecated, use preg_replace_callback instead in /storage/content/10/1006410/dgplayers.net/public_html/mkportal/include/functions.php on line 1475 Deprecated: preg_replace(): The /e modifier is deprecated, use preg_replace_callback instead in /storage/content/10/1006410/dgplayers.net/public_html/mkportal/include/functions.php on line 1473 Deprecated: preg_replace(): The /e modifier is deprecated, use preg_replace_callback instead in /storage/content/10/1006410/dgplayers.net/public_html/mkportal/include/functions.php on line 1474 Deprecated: preg_replace(): The /e modifier is deprecated, use preg_replace_callback instead in /storage/content/10/1006410/dgplayers.net/public_html/mkportal/include/functions.php on line 1475 Deprecated: preg_replace(): The /e modifier is deprecated, use preg_replace_callback instead in /storage/content/10/1006410/dgplayers.net/public_html/mkportal/include/functions.php on line 1473 Deprecated: preg_replace(): The /e modifier is deprecated, use preg_replace_callback instead in /storage/content/10/1006410/dgplayers.net/public_html/mkportal/include/functions.php on line 1474 Deprecated: preg_replace(): The /e modifier is deprecated, use preg_replace_callback instead in /storage/content/10/1006410/dgplayers.net/public_html/mkportal/include/functions.php on line 1475 Deprecated: preg_replace(): The /e modifier is deprecated, use preg_replace_callback instead in /storage/content/10/1006410/dgplayers.net/public_html/mkportal/include/functions.php on line 1473 Deprecated: preg_replace(): The /e modifier is deprecated, use preg_replace_callback instead in /storage/content/10/1006410/dgplayers.net/public_html/mkportal/include/functions.php on line 1474 Deprecated: preg_replace(): The /e modifier is deprecated, use preg_replace_callback instead in /storage/content/10/1006410/dgplayers.net/public_html/mkportal/include/functions.php on line 1475 Deprecated: preg_replace(): The /e modifier is deprecated, use preg_replace_callback instead in /storage/content/10/1006410/dgplayers.net/public_html/mkportal/include/functions.php on line 1473 Deprecated: preg_replace(): The /e modifier is deprecated, use preg_replace_callback instead in /storage/content/10/1006410/dgplayers.net/public_html/mkportal/include/functions.php on line 1474 Deprecated: preg_replace(): The /e modifier is deprecated, use preg_replace_callback instead in /storage/content/10/1006410/dgplayers.net/public_html/mkportal/include/functions.php on line 1475 Deprecated: preg_replace(): The /e modifier is deprecated, use preg_replace_callback instead in /storage/content/10/1006410/dgplayers.net/public_html/mkportal/include/functions.php on line 1473 Deprecated: preg_replace(): The /e modifier is deprecated, use preg_replace_callback instead in /storage/content/10/1006410/dgplayers.net/public_html/mkportal/include/functions.php on line 1474 Deprecated: preg_replace(): The /e modifier is deprecated, use preg_replace_callback instead in /storage/content/10/1006410/dgplayers.net/public_html/mkportal/include/functions.php on line 1475 Deprecated: preg_replace(): The /e modifier is deprecated, use preg_replace_callback instead in /storage/content/10/1006410/dgplayers.net/public_html/mkportal/include/functions.php on line 1473 Deprecated: preg_replace(): The /e modifier is deprecated, use preg_replace_callback instead in /storage/content/10/1006410/dgplayers.net/public_html/mkportal/include/functions.php on line 1474 Deprecated: preg_replace(): The /e modifier is deprecated, use preg_replace_callback instead in /storage/content/10/1006410/dgplayers.net/public_html/mkportal/include/functions.php on line 1475 Deprecated: preg_replace(): The /e modifier is deprecated, use preg_replace_callback instead in /storage/content/10/1006410/dgplayers.net/public_html/mkportal/include/functions.php on line 1473 Deprecated: preg_replace(): The /e modifier is deprecated, use preg_replace_callback instead in /storage/content/10/1006410/dgplayers.net/public_html/mkportal/include/functions.php on line 1474 Deprecated: preg_replace(): The /e modifier is deprecated, use preg_replace_callback instead in /storage/content/10/1006410/dgplayers.net/public_html/mkportal/include/functions.php on line 1475 Deprecated: preg_replace(): The /e modifier is deprecated, use preg_replace_callback instead in /storage/content/10/1006410/dgplayers.net/public_html/mkportal/include/functions.php on line 1473 Deprecated: preg_replace(): The /e modifier is deprecated, use preg_replace_callback instead in /storage/content/10/1006410/dgplayers.net/public_html/mkportal/include/functions.php on line 1474 Deprecated: preg_replace(): The /e modifier is deprecated, use preg_replace_callback instead in /storage/content/10/1006410/dgplayers.net/public_html/mkportal/include/functions.php on line 1475 Deprecated: preg_replace(): The /e modifier is deprecated, use preg_replace_callback instead in /storage/content/10/1006410/dgplayers.net/public_html/mkportal/include/functions.php on line 1473 Deprecated: preg_replace(): The /e modifier is deprecated, use preg_replace_callback instead in /storage/content/10/1006410/dgplayers.net/public_html/mkportal/include/functions.php on line 1474 Deprecated: preg_replace(): The /e modifier is deprecated, use preg_replace_callback instead in /storage/content/10/1006410/dgplayers.net/public_html/mkportal/include/functions.php on line 1475 Deprecated: preg_replace(): The /e modifier is deprecated, use preg_replace_callback instead in /storage/content/10/1006410/dgplayers.net/public_html/mkportal/include/functions.php on line 1473 Deprecated: preg_replace(): The /e modifier is deprecated, use preg_replace_callback instead in /storage/content/10/1006410/dgplayers.net/public_html/mkportal/include/functions.php on line 1474 Deprecated: preg_replace(): The /e modifier is deprecated, use preg_replace_callback instead in /storage/content/10/1006410/dgplayers.net/public_html/mkportal/include/functions.php on line 1475 Deprecated: preg_replace(): The /e modifier is deprecated, use preg_replace_callback instead in /storage/content/10/1006410/dgplayers.net/public_html/mkportal/include/functions.php on line 1473 Deprecated: preg_replace(): The /e modifier is deprecated, use preg_replace_callback instead in /storage/content/10/1006410/dgplayers.net/public_html/mkportal/include/functions.php on line 1474 Deprecated: preg_replace(): The /e modifier is deprecated, use preg_replace_callback instead in /storage/content/10/1006410/dgplayers.net/public_html/mkportal/include/functions.php on line 1475 Deprecated: preg_replace(): The /e modifier is deprecated, use preg_replace_callback instead in /storage/content/10/1006410/dgplayers.net/public_html/mkportal/include/functions.php on line 1473 Deprecated: preg_replace(): The /e modifier is deprecated, use preg_replace_callback instead in /storage/content/10/1006410/dgplayers.net/public_html/mkportal/include/functions.php on line 1474 Deprecated: preg_replace(): The /e modifier is deprecated, use preg_replace_callback instead in /storage/content/10/1006410/dgplayers.net/public_html/mkportal/include/functions.php on line 1475 Deprecated: preg_replace(): The /e modifier is deprecated, use preg_replace_callback instead in /storage/content/10/1006410/dgplayers.net/public_html/mkportal/include/functions.php on line 1473 Deprecated: preg_replace(): The /e modifier is deprecated, use preg_replace_callback instead in /storage/content/10/1006410/dgplayers.net/public_html/mkportal/include/functions.php on line 1474 Deprecated: preg_replace(): The /e modifier is deprecated, use preg_replace_callback instead in /storage/content/10/1006410/dgplayers.net/public_html/mkportal/include/functions.php on line 1475 Deprecated: preg_replace(): The /e modifier is deprecated, use preg_replace_callback instead in /storage/content/10/1006410/dgplayers.net/public_html/mkportal/include/functions.php on line 1473 Deprecated: preg_replace(): The /e modifier is deprecated, use preg_replace_callback instead in /storage/content/10/1006410/dgplayers.net/public_html/mkportal/include/functions.php on line 1474 Deprecated: preg_replace(): The /e modifier is deprecated, use preg_replace_callback instead in /storage/content/10/1006410/dgplayers.net/public_html/mkportal/include/functions.php on line 1475 Deprecated: preg_replace(): The /e modifier is deprecated, use preg_replace_callback instead in /storage/content/10/1006410/dgplayers.net/public_html/mkportal/include/functions.php on line 1473 Deprecated: preg_replace(): The /e modifier is deprecated, use preg_replace_callback instead in /storage/content/10/1006410/dgplayers.net/public_html/mkportal/include/functions.php on line 1474 Deprecated: preg_replace(): The /e modifier is deprecated, use preg_replace_callback instead in /storage/content/10/1006410/dgplayers.net/public_html/mkportal/include/functions.php on line 1475 Deprecated: preg_replace(): The /e modifier is deprecated, use preg_replace_callback instead in /storage/content/10/1006410/dgplayers.net/public_html/mkportal/include/functions.php on line 1473 Deprecated: preg_replace(): The /e modifier is deprecated, use preg_replace_callback instead in /storage/content/10/1006410/dgplayers.net/public_html/mkportal/include/functions.php on line 1474 Deprecated: preg_replace(): The /e modifier is deprecated, use preg_replace_callback instead in /storage/content/10/1006410/dgplayers.net/public_html/mkportal/include/functions.php on line 1475 Deprecated: preg_replace(): The /e modifier is deprecated, use preg_replace_callback instead in /storage/content/10/1006410/dgplayers.net/public_html/mkportal/include/functions.php on line 1473 Deprecated: preg_replace(): The /e modifier is deprecated, use preg_replace_callback instead in /storage/content/10/1006410/dgplayers.net/public_html/mkportal/include/functions.php on line 1474 Deprecated: preg_replace(): The /e modifier is deprecated, use preg_replace_callback instead in /storage/content/10/1006410/dgplayers.net/public_html/mkportal/include/functions.php on line 1475 Deprecated: preg_replace(): The /e modifier is deprecated, use preg_replace_callback instead in /storage/content/10/1006410/dgplayers.net/public_html/mkportal/include/functions.php on line 1473 Deprecated: preg_replace(): The /e modifier is deprecated, use preg_replace_callback instead in /storage/content/10/1006410/dgplayers.net/public_html/mkportal/include/functions.php on line 1474 Deprecated: preg_replace(): The /e modifier is deprecated, use preg_replace_callback instead in /storage/content/10/1006410/dgplayers.net/public_html/mkportal/include/functions.php on line 1475 Deprecated: preg_replace(): The /e modifier is deprecated, use preg_replace_callback instead in /storage/content/10/1006410/dgplayers.net/public_html/mkportal/include/functions.php on line 1473 Deprecated: preg_replace(): The /e modifier is deprecated, use preg_replace_callback instead in /storage/content/10/1006410/dgplayers.net/public_html/mkportal/include/functions.php on line 1474 Deprecated: preg_replace(): The /e modifier is deprecated, use preg_replace_callback instead in /storage/content/10/1006410/dgplayers.net/public_html/mkportal/include/functions.php on line 1475 Deprecated: preg_replace(): The /e modifier is deprecated, use preg_replace_callback instead in /storage/content/10/1006410/dgplayers.net/public_html/mkportal/include/functions.php on line 1473 Deprecated: preg_replace(): The /e modifier is deprecated, use preg_replace_callback instead in /storage/content/10/1006410/dgplayers.net/public_html/mkportal/include/functions.php on line 1474 Deprecated: preg_replace(): The /e modifier is deprecated, use preg_replace_callback instead in /storage/content/10/1006410/dgplayers.net/public_html/mkportal/include/functions.php on line 1475 Deprecated: preg_replace(): The /e modifier is deprecated, use preg_replace_callback instead in /storage/content/10/1006410/dgplayers.net/public_html/mkportal/include/functions.php on line 1473 Deprecated: preg_replace(): The /e modifier is deprecated, use preg_replace_callback instead in /storage/content/10/1006410/dgplayers.net/public_html/mkportal/include/functions.php on line 1474 Deprecated: preg_replace(): The /e modifier is deprecated, use preg_replace_callback instead in /storage/content/10/1006410/dgplayers.net/public_html/mkportal/include/functions.php on line 1475 Deprecated: preg_replace(): The /e modifier is deprecated, use preg_replace_callback instead in /storage/content/10/1006410/dgplayers.net/public_html/mkportal/include/functions.php on line 1473 Deprecated: preg_replace(): The /e modifier is deprecated, use preg_replace_callback instead in /storage/content/10/1006410/dgplayers.net/public_html/mkportal/include/functions.php on line 1474 Deprecated: preg_replace(): The /e modifier is deprecated, use preg_replace_callback instead in /storage/content/10/1006410/dgplayers.net/public_html/mkportal/include/functions.php on line 1475 Deprecated: preg_replace(): The /e modifier is deprecated, use preg_replace_callback instead in /storage/content/10/1006410/dgplayers.net/public_html/mkportal/include/functions.php on line 1473 Deprecated: preg_replace(): The /e modifier is deprecated, use preg_replace_callback instead in /storage/content/10/1006410/dgplayers.net/public_html/mkportal/include/functions.php on line 1474 Deprecated: preg_replace(): The /e modifier is deprecated, use preg_replace_callback instead in /storage/content/10/1006410/dgplayers.net/public_html/mkportal/include/functions.php on line 1475 Deprecated: preg_replace(): The /e modifier is deprecated, use preg_replace_callback instead in /storage/content/10/1006410/dgplayers.net/public_html/mkportal/include/functions.php on line 1473 Deprecated: preg_replace(): The /e modifier is deprecated, use preg_replace_callback instead in /storage/content/10/1006410/dgplayers.net/public_html/mkportal/include/functions.php on line 1474 Deprecated: preg_replace(): The /e modifier is deprecated, use preg_replace_callback instead in /storage/content/10/1006410/dgplayers.net/public_html/mkportal/include/functions.php on line 1475 Deprecated: preg_replace(): The /e modifier is deprecated, use preg_replace_callback instead in /storage/content/10/1006410/dgplayers.net/public_html/mkportal/include/functions.php on line 1473 Deprecated: preg_replace(): The /e modifier is deprecated, use preg_replace_callback instead in /storage/content/10/1006410/dgplayers.net/public_html/mkportal/include/functions.php on line 1474 Deprecated: preg_replace(): The /e modifier is deprecated, use preg_replace_callback instead in /storage/content/10/1006410/dgplayers.net/public_html/mkportal/include/functions.php on line 1475 Deprecated: preg_replace(): The /e modifier is deprecated, use preg_replace_callback instead in /storage/content/10/1006410/dgplayers.net/public_html/mkportal/include/functions.php on line 1473 Deprecated: preg_replace(): The /e modifier is deprecated, use preg_replace_callback instead in /storage/content/10/1006410/dgplayers.net/public_html/mkportal/include/functions.php on line 1474 Deprecated: preg_replace(): The /e modifier is deprecated, use preg_replace_callback instead in /storage/content/10/1006410/dgplayers.net/public_html/mkportal/include/functions.php on line 1475 Deprecated: preg_replace(): The /e modifier is deprecated, use preg_replace_callback instead in /storage/content/10/1006410/dgplayers.net/public_html/mkportal/include/functions.php on line 1473 Deprecated: preg_replace(): The /e modifier is deprecated, use preg_replace_callback instead in /storage/content/10/1006410/dgplayers.net/public_html/mkportal/include/functions.php on line 1474 Deprecated: preg_replace(): The /e modifier is deprecated, use preg_replace_callback instead in /storage/content/10/1006410/dgplayers.net/public_html/mkportal/include/functions.php on line 1475 Deprecated: preg_replace(): The /e modifier is deprecated, use preg_replace_callback instead in /storage/content/10/1006410/dgplayers.net/public_html/mkportal/include/functions.php on line 1473 Deprecated: preg_replace(): The /e modifier is deprecated, use preg_replace_callback instead in /storage/content/10/1006410/dgplayers.net/public_html/mkportal/include/functions.php on line 1474 Deprecated: preg_replace(): The /e modifier is deprecated, use preg_replace_callback instead in /storage/content/10/1006410/dgplayers.net/public_html/mkportal/include/functions.php on line 1475 Deprecated: preg_replace(): The /e modifier is deprecated, use preg_replace_callback instead in /storage/content/10/1006410/dgplayers.net/public_html/mkportal/include/functions.php on line 1473 Deprecated: preg_replace(): The /e modifier is deprecated, use preg_replace_callback instead in /storage/content/10/1006410/dgplayers.net/public_html/mkportal/include/functions.php on line 1474 Deprecated: preg_replace(): The /e modifier is deprecated, use preg_replace_callback instead in /storage/content/10/1006410/dgplayers.net/public_html/mkportal/include/functions.php on line 1475 Deprecated: preg_replace(): The /e modifier is deprecated, use preg_replace_callback instead in /storage/content/10/1006410/dgplayers.net/public_html/mkportal/include/functions.php on line 1473 Deprecated: preg_replace(): The /e modifier is deprecated, use preg_replace_callback instead in /storage/content/10/1006410/dgplayers.net/public_html/mkportal/include/functions.php on line 1474 Deprecated: preg_replace(): The /e modifier is deprecated, use preg_replace_callback instead in /storage/content/10/1006410/dgplayers.net/public_html/mkportal/include/functions.php on line 1475 Deprecated: preg_replace(): The /e modifier is deprecated, use preg_replace_callback instead in /storage/content/10/1006410/dgplayers.net/public_html/mkportal/include/functions.php on line 1473 Deprecated: preg_replace(): The /e modifier is deprecated, use preg_replace_callback instead in /storage/content/10/1006410/dgplayers.net/public_html/mkportal/include/functions.php on line 1474 Deprecated: preg_replace(): The /e modifier is deprecated, use preg_replace_callback instead in /storage/content/10/1006410/dgplayers.net/public_html/mkportal/include/functions.php on line 1475 Deprecated: preg_replace(): The /e modifier is deprecated, use preg_replace_callback instead in /storage/content/10/1006410/dgplayers.net/public_html/mkportal/include/functions.php on line 1473 Deprecated: preg_replace(): The /e modifier is deprecated, use preg_replace_callback instead in /storage/content/10/1006410/dgplayers.net/public_html/mkportal/include/functions.php on line 1474 Deprecated: preg_replace(): The /e modifier is deprecated, use preg_replace_callback instead in /storage/content/10/1006410/dgplayers.net/public_html/mkportal/include/functions.php on line 1475 Deprecated: preg_replace(): The /e modifier is deprecated, use preg_replace_callback instead in /storage/content/10/1006410/dgplayers.net/public_html/mkportal/include/functions.php on line 1473 Deprecated: preg_replace(): The /e modifier is deprecated, use preg_replace_callback instead in /storage/content/10/1006410/dgplayers.net/public_html/mkportal/include/functions.php on line 1474 Deprecated: preg_replace(): The /e modifier is deprecated, use preg_replace_callback instead in /storage/content/10/1006410/dgplayers.net/public_html/mkportal/include/functions.php on line 1475 Deprecated: preg_replace(): The /e modifier is deprecated, use preg_replace_callback instead in /storage/content/10/1006410/dgplayers.net/public_html/mkportal/include/functions.php on line 1473 Deprecated: preg_replace(): The /e modifier is deprecated, use preg_replace_callback instead in /storage/content/10/1006410/dgplayers.net/public_html/mkportal/include/functions.php on line 1474 Deprecated: preg_replace(): The /e modifier is deprecated, use preg_replace_callback instead in /storage/content/10/1006410/dgplayers.net/public_html/mkportal/include/functions.php on line 1475 Deprecated: preg_replace(): The /e modifier is deprecated, use preg_replace_callback instead in /storage/content/10/1006410/dgplayers.net/public_html/mkportal/include/functions.php on line 1462 Deprecated: preg_replace(): The /e modifier is deprecated, use preg_replace_callback instead in /storage/content/10/1006410/dgplayers.net/public_html/mkportal/include/functions.php on line 1473 Deprecated: preg_replace(): The /e modifier is deprecated, use preg_replace_callback instead in /storage/content/10/1006410/dgplayers.net/public_html/mkportal/include/functions.php on line 1474 Deprecated: preg_replace(): The /e modifier is deprecated, use preg_replace_callback instead in /storage/content/10/1006410/dgplayers.net/public_html/mkportal/include/functions.php on line 1475 Deprecated: preg_replace(): The /e modifier is deprecated, use preg_replace_callback instead in /storage/content/10/1006410/dgplayers.net/public_html/mkportal/include/functions.php on line 1473 Deprecated: preg_replace(): The /e modifier is deprecated, use preg_replace_callback instead in /storage/content/10/1006410/dgplayers.net/public_html/mkportal/include/functions.php on line 1474 Deprecated: preg_replace(): The /e modifier is deprecated, use preg_replace_callback instead in /storage/content/10/1006410/dgplayers.net/public_html/mkportal/include/functions.php on line 1475 Deprecated: preg_replace(): The /e modifier is deprecated, use preg_replace_callback instead in /storage/content/10/1006410/dgplayers.net/public_html/mkportal/include/functions.php on line 1473 Deprecated: preg_replace(): The /e modifier is deprecated, use preg_replace_callback instead in /storage/content/10/1006410/dgplayers.net/public_html/mkportal/include/functions.php on line 1474 Deprecated: preg_replace(): The /e modifier is deprecated, use preg_replace_callback instead in /storage/content/10/1006410/dgplayers.net/public_html/mkportal/include/functions.php on line 1475 Deprecated: preg_replace(): The /e modifier is deprecated, use preg_replace_callback instead in /storage/content/10/1006410/dgplayers.net/public_html/mkportal/include/functions.php on line 1473 Deprecated: preg_replace(): The /e modifier is deprecated, use preg_replace_callback instead in /storage/content/10/1006410/dgplayers.net/public_html/mkportal/include/functions.php on line 1474 Deprecated: preg_replace(): The /e modifier is deprecated, use preg_replace_callback instead in /storage/content/10/1006410/dgplayers.net/public_html/mkportal/include/functions.php on line 1475 Deprecated: preg_replace(): The /e modifier is deprecated, use preg_replace_callback instead in /storage/content/10/1006410/dgplayers.net/public_html/mkportal/include/functions.php on line 1473 Deprecated: preg_replace(): The /e modifier is deprecated, use preg_replace_callback instead in /storage/content/10/1006410/dgplayers.net/public_html/mkportal/include/functions.php on line 1474 Deprecated: preg_replace(): The /e modifier is deprecated, use preg_replace_callback instead in /storage/content/10/1006410/dgplayers.net/public_html/mkportal/include/functions.php on line 1475 Deprecated: preg_replace(): The /e modifier is deprecated, use preg_replace_callback instead in /storage/content/10/1006410/dgplayers.net/public_html/mkportal/include/functions.php on line 1473 Deprecated: preg_replace(): The /e modifier is deprecated, use preg_replace_callback instead in /storage/content/10/1006410/dgplayers.net/public_html/mkportal/include/functions.php on line 1474 Deprecated: preg_replace(): The /e modifier is deprecated, use preg_replace_callback instead in /storage/content/10/1006410/dgplayers.net/public_html/mkportal/include/functions.php on line 1475 Deprecated: preg_replace(): The /e modifier is deprecated, use preg_replace_callback instead in /storage/content/10/1006410/dgplayers.net/public_html/mkportal/include/functions.php on line 1473 Deprecated: preg_replace(): The /e modifier is deprecated, use preg_replace_callback instead in /storage/content/10/1006410/dgplayers.net/public_html/mkportal/include/functions.php on line 1474 Deprecated: preg_replace(): The /e modifier is deprecated, use preg_replace_callback instead in /storage/content/10/1006410/dgplayers.net/public_html/mkportal/include/functions.php on line 1475 Deprecated: preg_replace(): The /e modifier is deprecated, use preg_replace_callback instead in /storage/content/10/1006410/dgplayers.net/public_html/mkportal/include/functions.php on line 1473 Deprecated: preg_replace(): The /e modifier is deprecated, use preg_replace_callback instead in /storage/content/10/1006410/dgplayers.net/public_html/mkportal/include/functions.php on line 1474 Deprecated: preg_replace(): The /e modifier is deprecated, use preg_replace_callback instead in /storage/content/10/1006410/dgplayers.net/public_html/mkportal/include/functions.php on line 1475 Deprecated: preg_replace(): The /e modifier is deprecated, use preg_replace_callback instead in /storage/content/10/1006410/dgplayers.net/public_html/mkportal/include/functions.php on line 1473 Deprecated: preg_replace(): The /e modifier is deprecated, use preg_replace_callback instead in /storage/content/10/1006410/dgplayers.net/public_html/mkportal/include/functions.php on line 1474 Deprecated: preg_replace(): The /e modifier is deprecated, use preg_replace_callback instead in /storage/content/10/1006410/dgplayers.net/public_html/mkportal/include/functions.php on line 1475 Deprecated: preg_replace(): The /e modifier is deprecated, use preg_replace_callback instead in /storage/content/10/1006410/dgplayers.net/public_html/mkportal/include/functions.php on line 1473 Deprecated: preg_replace(): The /e modifier is deprecated, use preg_replace_callback instead in /storage/content/10/1006410/dgplayers.net/public_html/mkportal/include/functions.php on line 1474 Deprecated: preg_replace(): The /e modifier is deprecated, use preg_replace_callback instead in /storage/content/10/1006410/dgplayers.net/public_html/mkportal/include/functions.php on line 1475 Deprecated: preg_replace(): The /e modifier is deprecated, use preg_replace_callback instead in /storage/content/10/1006410/dgplayers.net/public_html/mkportal/include/functions.php on line 1473 Deprecated: preg_replace(): The /e modifier is deprecated, use preg_replace_callback instead in /storage/content/10/1006410/dgplayers.net/public_html/mkportal/include/functions.php on line 1474 Deprecated: preg_replace(): The /e modifier is deprecated, use preg_replace_callback instead in /storage/content/10/1006410/dgplayers.net/public_html/mkportal/include/functions.php on line 1475 Deprecated: preg_replace(): The /e modifier is deprecated, use preg_replace_callback instead in /storage/content/10/1006410/dgplayers.net/public_html/mkportal/include/functions.php on line 1473 Deprecated: preg_replace(): The /e modifier is deprecated, use preg_replace_callback instead in /storage/content/10/1006410/dgplayers.net/public_html/mkportal/include/functions.php on line 1474 Deprecated: preg_replace(): The /e modifier is deprecated, use preg_replace_callback instead in /storage/content/10/1006410/dgplayers.net/public_html/mkportal/include/functions.php on line 1475 Deprecated: preg_replace(): The /e modifier is deprecated, use preg_replace_callback instead in /storage/content/10/1006410/dgplayers.net/public_html/mkportal/include/functions.php on line 1473 Deprecated: preg_replace(): The /e modifier is deprecated, use preg_replace_callback instead in /storage/content/10/1006410/dgplayers.net/public_html/mkportal/include/functions.php on line 1474 Deprecated: preg_replace(): The /e modifier is deprecated, use preg_replace_callback instead in /storage/content/10/1006410/dgplayers.net/public_html/mkportal/include/functions.php on line 1475 Deprecated: preg_replace(): The /e modifier is deprecated, use preg_replace_callback instead in /storage/content/10/1006410/dgplayers.net/public_html/mkportal/include/functions.php on line 1473 Deprecated: preg_replace(): The /e modifier is deprecated, use preg_replace_callback instead in /storage/content/10/1006410/dgplayers.net/public_html/mkportal/include/functions.php on line 1474 Deprecated: preg_replace(): The /e modifier is deprecated, use preg_replace_callback instead in /storage/content/10/1006410/dgplayers.net/public_html/mkportal/include/functions.php on line 1475 Deprecated: preg_replace(): The /e modifier is deprecated, use preg_replace_callback instead in /storage/content/10/1006410/dgplayers.net/public_html/mkportal/include/functions.php on line 1473 Deprecated: preg_replace(): The /e modifier is deprecated, use preg_replace_callback instead in /storage/content/10/1006410/dgplayers.net/public_html/mkportal/include/functions.php on line 1474 Deprecated: preg_replace(): The /e modifier is deprecated, use preg_replace_callback instead in /storage/content/10/1006410/dgplayers.net/public_html/mkportal/include/functions.php on line 1475 Deprecated: preg_replace(): The /e modifier is deprecated, use preg_replace_callback instead in /storage/content/10/1006410/dgplayers.net/public_html/mkportal/include/functions.php on line 1473 Deprecated: preg_replace(): The /e modifier is deprecated, use preg_replace_callback instead in /storage/content/10/1006410/dgplayers.net/public_html/mkportal/include/functions.php on line 1474 Deprecated: preg_replace(): The /e modifier is deprecated, use preg_replace_callback instead in /storage/content/10/1006410/dgplayers.net/public_html/mkportal/include/functions.php on line 1475 Deprecated: preg_replace(): The /e modifier is deprecated, use preg_replace_callback instead in /storage/content/10/1006410/dgplayers.net/public_html/mkportal/include/functions.php on line 1473 Deprecated: preg_replace(): The /e modifier is deprecated, use preg_replace_callback instead in /storage/content/10/1006410/dgplayers.net/public_html/mkportal/include/functions.php on line 1474 Deprecated: preg_replace(): The /e modifier is deprecated, use preg_replace_callback instead in /storage/content/10/1006410/dgplayers.net/public_html/mkportal/include/functions.php on line 1475 Deprecated: preg_replace(): The /e modifier is deprecated, use preg_replace_callback instead in /storage/content/10/1006410/dgplayers.net/public_html/mkportal/include/functions.php on line 1473 Deprecated: preg_replace(): The /e modifier is deprecated, use preg_replace_callback instead in /storage/content/10/1006410/dgplayers.net/public_html/mkportal/include/functions.php on line 1474 Deprecated: preg_replace(): The /e modifier is deprecated, use preg_replace_callback instead in /storage/content/10/1006410/dgplayers.net/public_html/mkportal/include/functions.php on line 1475 Deprecated: preg_replace(): The /e modifier is deprecated, use preg_replace_callback instead in /storage/content/10/1006410/dgplayers.net/public_html/mkportal/include/functions.php on line 1473 Deprecated: preg_replace(): The /e modifier is deprecated, use preg_replace_callback instead in /storage/content/10/1006410/dgplayers.net/public_html/mkportal/include/functions.php on line 1474 Deprecated: preg_replace(): The /e modifier is deprecated, use preg_replace_callback instead in /storage/content/10/1006410/dgplayers.net/public_html/mkportal/include/functions.php on line 1475 Deprecated: preg_replace(): The /e modifier is deprecated, use preg_replace_callback instead in /storage/content/10/1006410/dgplayers.net/public_html/mkportal/include/functions.php on line 1473 Deprecated: preg_replace(): The /e modifier is deprecated, use preg_replace_callback instead in /storage/content/10/1006410/dgplayers.net/public_html/mkportal/include/functions.php on line 1474 Deprecated: preg_replace(): The /e modifier is deprecated, use preg_replace_callback instead in /storage/content/10/1006410/dgplayers.net/public_html/mkportal/include/functions.php on line 1475 Deprecated: preg_replace(): The /e modifier is deprecated, use preg_replace_callback instead in /storage/content/10/1006410/dgplayers.net/public_html/mkportal/include/functions.php on line 1473 Deprecated: preg_replace(): The /e modifier is deprecated, use preg_replace_callback instead in /storage/content/10/1006410/dgplayers.net/public_html/mkportal/include/functions.php on line 1474 Deprecated: preg_replace(): The /e modifier is deprecated, use preg_replace_callback instead in /storage/content/10/1006410/dgplayers.net/public_html/mkportal/include/functions.php on line 1475 Deprecated: preg_replace(): The /e modifier is deprecated, use preg_replace_callback instead in /storage/content/10/1006410/dgplayers.net/public_html/mkportal/include/functions.php on line 1473 Deprecated: preg_replace(): The /e modifier is deprecated, use preg_replace_callback instead in /storage/content/10/1006410/dgplayers.net/public_html/mkportal/include/functions.php on line 1474 Deprecated: preg_replace(): The /e modifier is deprecated, use preg_replace_callback instead in /storage/content/10/1006410/dgplayers.net/public_html/mkportal/include/functions.php on line 1475 Deprecated: preg_replace(): The /e modifier is deprecated, use preg_replace_callback instead in /storage/content/10/1006410/dgplayers.net/public_html/mkportal/include/functions.php on line 1473 Deprecated: preg_replace(): The /e modifier is deprecated, use preg_replace_callback instead in /storage/content/10/1006410/dgplayers.net/public_html/mkportal/include/functions.php on line 1474 Deprecated: preg_replace(): The /e modifier is deprecated, use preg_replace_callback instead in /storage/content/10/1006410/dgplayers.net/public_html/mkportal/include/functions.php on line 1475 Deprecated: preg_replace(): The /e modifier is deprecated, use preg_replace_callback instead in /storage/content/10/1006410/dgplayers.net/public_html/mkportal/include/functions.php on line 1462 Deprecated: preg_replace(): The /e modifier is deprecated, use preg_replace_callback instead in /storage/content/10/1006410/dgplayers.net/public_html/mkportal/include/functions.php on line 1473 Deprecated: preg_replace(): The /e modifier is deprecated, use preg_replace_callback instead in /storage/content/10/1006410/dgplayers.net/public_html/mkportal/include/functions.php on line 1474 Deprecated: preg_replace(): The /e modifier is deprecated, use preg_replace_callback instead in /storage/content/10/1006410/dgplayers.net/public_html/mkportal/include/functions.php on line 1475 Deprecated: preg_replace(): The /e modifier is deprecated, use preg_replace_callback instead in /storage/content/10/1006410/dgplayers.net/public_html/mkportal/include/functions.php on line 1473 Deprecated: preg_replace(): The /e modifier is deprecated, use preg_replace_callback instead in /storage/content/10/1006410/dgplayers.net/public_html/mkportal/include/functions.php on line 1474 Deprecated: preg_replace(): The /e modifier is deprecated, use preg_replace_callback instead in /storage/content/10/1006410/dgplayers.net/public_html/mkportal/include/functions.php on line 1475 Deprecated: preg_replace(): The /e modifier is deprecated, use preg_replace_callback instead in /storage/content/10/1006410/dgplayers.net/public_html/mkportal/include/functions.php on line 1473 Deprecated: preg_replace(): The /e modifier is deprecated, use preg_replace_callback instead in /storage/content/10/1006410/dgplayers.net/public_html/mkportal/include/functions.php on line 1474 Deprecated: preg_replace(): The /e modifier is deprecated, use preg_replace_callback instead in /storage/content/10/1006410/dgplayers.net/public_html/mkportal/include/functions.php on line 1475 Deprecated: preg_replace(): The /e modifier is deprecated, use preg_replace_callback instead in /storage/content/10/1006410/dgplayers.net/public_html/mkportal/include/functions.php on line 1473 Deprecated: preg_replace(): The /e modifier is deprecated, use preg_replace_callback instead in /storage/content/10/1006410/dgplayers.net/public_html/mkportal/include/functions.php on line 1474 Deprecated: preg_replace(): The /e modifier is deprecated, use preg_replace_callback instead in /storage/content/10/1006410/dgplayers.net/public_html/mkportal/include/functions.php on line 1475 Deprecated: preg_replace(): The /e modifier is deprecated, use preg_replace_callback instead in /storage/content/10/1006410/dgplayers.net/public_html/mkportal/include/functions.php on line 1473 Deprecated: preg_replace(): The /e modifier is deprecated, use preg_replace_callback instead in /storage/content/10/1006410/dgplayers.net/public_html/mkportal/include/functions.php on line 1474 Deprecated: preg_replace(): The /e modifier is deprecated, use preg_replace_callback instead in /storage/content/10/1006410/dgplayers.net/public_html/mkportal/include/functions.php on line 1475 Deprecated: preg_replace(): The /e modifier is deprecated, use preg_replace_callback instead in /storage/content/10/1006410/dgplayers.net/public_html/mkportal/include/functions.php on line 1473 Deprecated: preg_replace(): The /e modifier is deprecated, use preg_replace_callback instead in /storage/content/10/1006410/dgplayers.net/public_html/mkportal/include/functions.php on line 1474 Deprecated: preg_replace(): The /e modifier is deprecated, use preg_replace_callback instead in /storage/content/10/1006410/dgplayers.net/public_html/mkportal/include/functions.php on line 1475 Deprecated: preg_replace(): The /e modifier is deprecated, use preg_replace_callback instead in /storage/content/10/1006410/dgplayers.net/public_html/mkportal/include/functions.php on line 1473 Deprecated: preg_replace(): The /e modifier is deprecated, use preg_replace_callback instead in /storage/content/10/1006410/dgplayers.net/public_html/mkportal/include/functions.php on line 1474 Deprecated: preg_replace(): The /e modifier is deprecated, use preg_replace_callback instead in /storage/content/10/1006410/dgplayers.net/public_html/mkportal/include/functions.php on line 1475 Deprecated: preg_replace(): The /e modifier is deprecated, use preg_replace_callback instead in /storage/content/10/1006410/dgplayers.net/public_html/mkportal/include/functions.php on line 1473 Deprecated: preg_replace(): The /e modifier is deprecated, use preg_replace_callback instead in /storage/content/10/1006410/dgplayers.net/public_html/mkportal/include/functions.php on line 1474 Deprecated: preg_replace(): The /e modifier is deprecated, use preg_replace_callback instead in /storage/content/10/1006410/dgplayers.net/public_html/mkportal/include/functions.php on line 1475 Deprecated: preg_replace(): The /e modifier is deprecated, use preg_replace_callback instead in /storage/content/10/1006410/dgplayers.net/public_html/mkportal/include/functions.php on line 1473 Deprecated: preg_replace(): The /e modifier is deprecated, use preg_replace_callback instead in /storage/content/10/1006410/dgplayers.net/public_html/mkportal/include/functions.php on line 1474 Deprecated: preg_replace(): The /e modifier is deprecated, use preg_replace_callback instead in /storage/content/10/1006410/dgplayers.net/public_html/mkportal/include/functions.php on line 1475 Deprecated: preg_replace(): The /e modifier is deprecated, use preg_replace_callback instead in /storage/content/10/1006410/dgplayers.net/public_html/mkportal/include/functions.php on line 1473 Deprecated: preg_replace(): The /e modifier is deprecated, use preg_replace_callback instead in /storage/content/10/1006410/dgplayers.net/public_html/mkportal/include/functions.php on line 1474 Deprecated: preg_replace(): The /e modifier is deprecated, use preg_replace_callback instead in /storage/content/10/1006410/dgplayers.net/public_html/mkportal/include/functions.php on line 1475 Deprecated: preg_replace(): The /e modifier is deprecated, use preg_replace_callback instead in /storage/content/10/1006410/dgplayers.net/public_html/mkportal/include/functions.php on line 1473 Deprecated: preg_replace(): The /e modifier is deprecated, use preg_replace_callback instead in /storage/content/10/1006410/dgplayers.net/public_html/mkportal/include/functions.php on line 1474 Deprecated: preg_replace(): The /e modifier is deprecated, use preg_replace_callback instead in /storage/content/10/1006410/dgplayers.net/public_html/mkportal/include/functions.php on line 1475 Deprecated: preg_replace(): The /e modifier is deprecated, use preg_replace_callback instead in /storage/content/10/1006410/dgplayers.net/public_html/mkportal/include/functions.php on line 1473 Deprecated: preg_replace(): The /e modifier is deprecated, use preg_replace_callback instead in /storage/content/10/1006410/dgplayers.net/public_html/mkportal/include/functions.php on line 1474 Deprecated: preg_replace(): The /e modifier is deprecated, use preg_replace_callback instead in /storage/content/10/1006410/dgplayers.net/public_html/mkportal/include/functions.php on line 1475 Deprecated: preg_replace(): The /e modifier is deprecated, use preg_replace_callback instead in /storage/content/10/1006410/dgplayers.net/public_html/mkportal/include/functions.php on line 1473 Deprecated: preg_replace(): The /e modifier is deprecated, use preg_replace_callback instead in /storage/content/10/1006410/dgplayers.net/public_html/mkportal/include/functions.php on line 1474 Deprecated: preg_replace(): The /e modifier is deprecated, use preg_replace_callback instead in /storage/content/10/1006410/dgplayers.net/public_html/mkportal/include/functions.php on line 1475 Deprecated: preg_replace(): The /e modifier is deprecated, use preg_replace_callback instead in /storage/content/10/1006410/dgplayers.net/public_html/mkportal/include/functions.php on line 1473 Deprecated: preg_replace(): The /e modifier is deprecated, use preg_replace_callback instead in /storage/content/10/1006410/dgplayers.net/public_html/mkportal/include/functions.php on line 1474 Deprecated: preg_replace(): The /e modifier is deprecated, use preg_replace_callback instead in /storage/content/10/1006410/dgplayers.net/public_html/mkportal/include/functions.php on line 1475 Deprecated: preg_replace(): The /e modifier is deprecated, use preg_replace_callback instead in /storage/content/10/1006410/dgplayers.net/public_html/mkportal/include/functions.php on line 1473 Deprecated: preg_replace(): The /e modifier is deprecated, use preg_replace_callback instead in /storage/content/10/1006410/dgplayers.net/public_html/mkportal/include/functions.php on line 1474 Deprecated: preg_replace(): The /e modifier is deprecated, use preg_replace_callback instead in /storage/content/10/1006410/dgplayers.net/public_html/mkportal/include/functions.php on line 1475 Deprecated: preg_replace(): The /e modifier is deprecated, use preg_replace_callback instead in /storage/content/10/1006410/dgplayers.net/public_html/mkportal/include/functions.php on line 1473 Deprecated: preg_replace(): The /e modifier is deprecated, use preg_replace_callback instead in /storage/content/10/1006410/dgplayers.net/public_html/mkportal/include/functions.php on line 1474 Deprecated: preg_replace(): The /e modifier is deprecated, use preg_replace_callback instead in /storage/content/10/1006410/dgplayers.net/public_html/mkportal/include/functions.php on line 1475 Deprecated: preg_replace(): The /e modifier is deprecated, use preg_replace_callback instead in /storage/content/10/1006410/dgplayers.net/public_html/mkportal/include/functions.php on line 1473 Deprecated: preg_replace(): The /e modifier is deprecated, use preg_replace_callback instead in /storage/content/10/1006410/dgplayers.net/public_html/mkportal/include/functions.php on line 1474 Deprecated: preg_replace(): The /e modifier is deprecated, use preg_replace_callback instead in /storage/content/10/1006410/dgplayers.net/public_html/mkportal/include/functions.php on line 1475 Deprecated: preg_replace(): The /e modifier is deprecated, use preg_replace_callback instead in /storage/content/10/1006410/dgplayers.net/public_html/mkportal/include/functions.php on line 1473 Deprecated: preg_replace(): The /e modifier is deprecated, use preg_replace_callback instead in /storage/content/10/1006410/dgplayers.net/public_html/mkportal/include/functions.php on line 1474 Deprecated: preg_replace(): The /e modifier is deprecated, use preg_replace_callback instead in /storage/content/10/1006410/dgplayers.net/public_html/mkportal/include/functions.php on line 1475 Deprecated: preg_replace(): The /e modifier is deprecated, use preg_replace_callback instead in /storage/content/10/1006410/dgplayers.net/public_html/mkportal/include/functions.php on line 1473 Deprecated: preg_replace(): The /e modifier is deprecated, use preg_replace_callback instead in /storage/content/10/1006410/dgplayers.net/public_html/mkportal/include/functions.php on line 1474 Deprecated: preg_replace(): The /e modifier is deprecated, use preg_replace_callback instead in /storage/content/10/1006410/dgplayers.net/public_html/mkportal/include/functions.php on line 1475 Deprecated: preg_replace(): The /e modifier is deprecated, use preg_replace_callback instead in /storage/content/10/1006410/dgplayers.net/public_html/mkportal/include/functions.php on line 1473 Deprecated: preg_replace(): The /e modifier is deprecated, use preg_replace_callback instead in /storage/content/10/1006410/dgplayers.net/public_html/mkportal/include/functions.php on line 1474 Deprecated: preg_replace(): The /e modifier is deprecated, use preg_replace_callback instead in /storage/content/10/1006410/dgplayers.net/public_html/mkportal/include/functions.php on line 1475 Deprecated: preg_replace(): The /e modifier is deprecated, use preg_replace_callback instead in /storage/content/10/1006410/dgplayers.net/public_html/mkportal/include/functions.php on line 1473 Deprecated: preg_replace(): The /e modifier is deprecated, use preg_replace_callback instead in /storage/content/10/1006410/dgplayers.net/public_html/mkportal/include/functions.php on line 1474 Deprecated: preg_replace(): The /e modifier is deprecated, use preg_replace_callback instead in /storage/content/10/1006410/dgplayers.net/public_html/mkportal/include/functions.php on line 1475 Deprecated: preg_replace(): The /e modifier is deprecated, use preg_replace_callback instead in /storage/content/10/1006410/dgplayers.net/public_html/mkportal/include/functions.php on line 1473 Deprecated: preg_replace(): The /e modifier is deprecated, use preg_replace_callback instead in /storage/content/10/1006410/dgplayers.net/public_html/mkportal/include/functions.php on line 1474 Deprecated: preg_replace(): The /e modifier is deprecated, use preg_replace_callback instead in /storage/content/10/1006410/dgplayers.net/public_html/mkportal/include/functions.php on line 1475 Deprecated: preg_replace(): The /e modifier is deprecated, use preg_replace_callback instead in /storage/content/10/1006410/dgplayers.net/public_html/mkportal/include/functions.php on line 1473 Deprecated: preg_replace(): The /e modifier is deprecated, use preg_replace_callback instead in /storage/content/10/1006410/dgplayers.net/public_html/mkportal/include/functions.php on line 1474 Deprecated: preg_replace(): The /e modifier is deprecated, use preg_replace_callback instead in /storage/content/10/1006410/dgplayers.net/public_html/mkportal/include/functions.php on line 1475 Deprecated: preg_replace(): The /e modifier is deprecated, use preg_replace_callback instead in /storage/content/10/1006410/dgplayers.net/public_html/mkportal/include/functions.php on line 1473 Deprecated: preg_replace(): The /e modifier is deprecated, use preg_replace_callback instead in /storage/content/10/1006410/dgplayers.net/public_html/mkportal/include/functions.php on line 1474 Deprecated: preg_replace(): The /e modifier is deprecated, use preg_replace_callback instead in /storage/content/10/1006410/dgplayers.net/public_html/mkportal/include/functions.php on line 1475 Deprecated: preg_replace(): The /e modifier is deprecated, use preg_replace_callback instead in /storage/content/10/1006410/dgplayers.net/public_html/mkportal/include/functions.php on line 1473 Deprecated: preg_replace(): The /e modifier is deprecated, use preg_replace_callback instead in /storage/content/10/1006410/dgplayers.net/public_html/mkportal/include/functions.php on line 1474 Deprecated: preg_replace(): The /e modifier is deprecated, use preg_replace_callback instead in /storage/content/10/1006410/dgplayers.net/public_html/mkportal/include/functions.php on line 1475 Deprecated: preg_replace(): The /e modifier is deprecated, use preg_replace_callback instead in /storage/content/10/1006410/dgplayers.net/public_html/mkportal/include/functions.php on line 1473 Deprecated: preg_replace(): The /e modifier is deprecated, use preg_replace_callback instead in /storage/content/10/1006410/dgplayers.net/public_html/mkportal/include/functions.php on line 1474 Deprecated: preg_replace(): The /e modifier is deprecated, use preg_replace_callback instead in /storage/content/10/1006410/dgplayers.net/public_html/mkportal/include/functions.php on line 1475 Deprecated: preg_replace(): The /e modifier is deprecated, use preg_replace_callback instead in /storage/content/10/1006410/dgplayers.net/public_html/mkportal/include/functions.php on line 1473 Deprecated: preg_replace(): The /e modifier is deprecated, use preg_replace_callback instead in /storage/content/10/1006410/dgplayers.net/public_html/mkportal/include/functions.php on line 1474 Deprecated: preg_replace(): The /e modifier is deprecated, use preg_replace_callback instead in /storage/content/10/1006410/dgplayers.net/public_html/mkportal/include/functions.php on line 1475 Deprecated: preg_replace(): The /e modifier is deprecated, use preg_replace_callback instead in /storage/content/10/1006410/dgplayers.net/public_html/mkportal/include/functions.php on line 1473 Deprecated: preg_replace(): The /e modifier is deprecated, use preg_replace_callback instead in /storage/content/10/1006410/dgplayers.net/public_html/mkportal/include/functions.php on line 1474 Deprecated: preg_replace(): The /e modifier is deprecated, use preg_replace_callback instead in /storage/content/10/1006410/dgplayers.net/public_html/mkportal/include/functions.php on line 1475 Deprecated: preg_replace(): The /e modifier is deprecated, use preg_replace_callback instead in /storage/content/10/1006410/dgplayers.net/public_html/mkportal/include/functions.php on line 1473 Deprecated: preg_replace(): The /e modifier is deprecated, use preg_replace_callback instead in /storage/content/10/1006410/dgplayers.net/public_html/mkportal/include/functions.php on line 1474 Deprecated: preg_replace(): The /e modifier is deprecated, use preg_replace_callback instead in /storage/content/10/1006410/dgplayers.net/public_html/mkportal/include/functions.php on line 1475 Deprecated: preg_replace(): The /e modifier is deprecated, use preg_replace_callback instead in /storage/content/10/1006410/dgplayers.net/public_html/mkportal/include/functions.php on line 1473 Deprecated: preg_replace(): The /e modifier is deprecated, use preg_replace_callback instead in /storage/content/10/1006410/dgplayers.net/public_html/mkportal/include/functions.php on line 1474 Deprecated: preg_replace(): The /e modifier is deprecated, use preg_replace_callback instead in /storage/content/10/1006410/dgplayers.net/public_html/mkportal/include/functions.php on line 1475 Deprecated: preg_replace(): The /e modifier is deprecated, use preg_replace_callback instead in /storage/content/10/1006410/dgplayers.net/public_html/mkportal/include/functions.php on line 1473 Deprecated: preg_replace(): The /e modifier is deprecated, use preg_replace_callback instead in /storage/content/10/1006410/dgplayers.net/public_html/mkportal/include/functions.php on line 1474 Deprecated: preg_replace(): The /e modifier is deprecated, use preg_replace_callback instead in /storage/content/10/1006410/dgplayers.net/public_html/mkportal/include/functions.php on line 1475 Deprecated: preg_replace(): The /e modifier is deprecated, use preg_replace_callback instead in /storage/content/10/1006410/dgplayers.net/public_html/mkportal/include/functions.php on line 1473 Deprecated: preg_replace(): The /e modifier is deprecated, use preg_replace_callback instead in /storage/content/10/1006410/dgplayers.net/public_html/mkportal/include/functions.php on line 1474 Deprecated: preg_replace(): The /e modifier is deprecated, use preg_replace_callback instead in /storage/content/10/1006410/dgplayers.net/public_html/mkportal/include/functions.php on line 1475 Deprecated: preg_replace(): The /e modifier is deprecated, use preg_replace_callback instead in /storage/content/10/1006410/dgplayers.net/public_html/mkportal/include/functions.php on line 1473 Deprecated: preg_replace(): The /e modifier is deprecated, use preg_replace_callback instead in /storage/content/10/1006410/dgplayers.net/public_html/mkportal/include/functions.php on line 1474 Deprecated: preg_replace(): The /e modifier is deprecated, use preg_replace_callback instead in /storage/content/10/1006410/dgplayers.net/public_html/mkportal/include/functions.php on line 1475
Stories of a Cleric
A small bound book scuffed and stained from many adventures.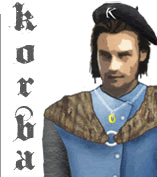 Wednesday, 22 February 2006
A Happy Time

The Cleric settled down in the Dundee Inn and sighed a sigh of deep contentment. He needed to do some thinking about all that had happened in the last few marcs, to reflect on the great happiness and great peril and great sadness.

Finally the near endless battle in the tombs was over and the Cleric could travel throughout the corners of the land without being waylaid by wild beasts. He visited all the major settlements to speak with the trainers there, not even Captain Rigoth In Cory's tower or Isla in the Magical city of Ryndall could teach him any new skills.

This suited the Cleric, driven in almost relentless training since entering the land the Cleric had always wanted to spend more time nurturing the friendship and resolve of those entering Valorn for the first time and repay some of the kindness shown to him from those early days hunting in the Dundee sewers.

The Cleric first pondered the sadness, Maji has locked herself away, although he was lucky enough to visit her he knew she had set herself a difficult task and he resolved to help her in anyway possible. Perhaps the Clerics small daily ritual would help his dear friend?

The sadness now in the best place for it out and away the Cleric pondered the peril. In doing so almost subconsciously drew his blinding UW of light closer to him for comfort. Balthazar, the demon lord himself has stood as far away as Jeffrey was now cleaning glasses. The Cleric shuddered as he remembered the smothering darkness that had covered Maji and himself around the Obelisk of light while they spent there last but one meeting together until the happy day her atonement is complete. The demon Lords presence however encouraged the Cleric that Majis task was not hopeless and that maybe they could meet again under the bright Valorian sun.

Finally the happiness, to be made an officer in one of the greatest Guilds in Valorn filled the Cleric with honour.

That sight of Balthazar through the fog he weaved about him was enough to stop the Cleric from becoming complacent though, perhaps there was a new fighting style on Killican, the Cleric resolved to keep exploring and to keep searching always with his UW close to his hand.

Korba posted @ 16:54 -
Link
-
comments (1)
035178 visitors